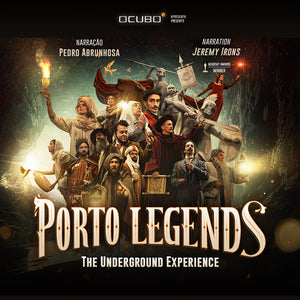 ---
Porto Legends - the Underground Experience" is an immersive virtual show that brings you deep into the hidden secrets and legends of the Undefeated City the North Region. 
From the magical architecture of the Porto Customs House - Furnas da Alfândega and the work by the renown historian Joel Cleto, OCUBO Studio created a show full of mystery, suspended between reality and imagination.
With artistic direction by Nuno Maya, the show is narrated by the voices of Pedro Abrunhosa, the great Portuguese author, and "Best Actor" Academy Award winner Jeremy Irons. 
​
All mysteries  are an integral part of the soul of the city and will be narrated by voices, graphic animation and music, so the walls of Furnas
da Alfândega will come alive to tell the public their story.
The show is a unique and immersive audiovisual experience of national resonance which aims to become a landmark of the city, a must-see cultural icon to be enjoyed by the people of Porto and by visitors alike.